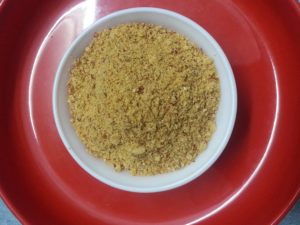 This chutney powder is prepared with dals,nuts and flax seeds.
Ingredients:
Flax seeds – 50 Gms,
Ground nuts – 50 Gms,
White Til – 50 Gms,
Fried Channa dal – 50 Gms,
Red chilli – 10 to 12,
Jeera – 1 Tsp,
Peeled garlic cloves – 6 to 8,
Salt,
Dhania seeds – 1 Tablesp,
Tamarind fruit – 4″ piece, ( optional),
Method:
1).Dry fry til ,flax seeds and ground nuts separately . Keep them aside.( No need to remove outer husk of ground nuts).
2).Dry fry dhania seeds,jeera,chilli and tamarind ( if using ) along with peeled garlic.Add Channa dal fry a second.Cool.
3).Grind all the ingredients along with salt ,to a coarse (medium) powder.Keep the powder in a clean bottle.
4).Serve this powder with hot plain rice with a tsp of desi ghee.It can be enjoyed with Pongal/upma /kichidi also.
Tip:
A).Add few dry curry leaves along with ingredients.It adds nice flavour and tasty too.
B).Always keep the bottle in fridge to enjoy its fresh flavour. As we added flax seeds it may sometimes turn rancid if you keep it outside.
C).You can sprinkle this powder on dosa while preparing.