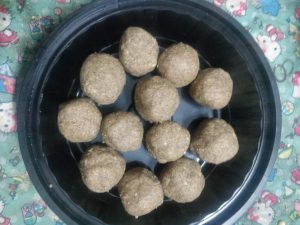 This til and ragi flour laddu is very healthy, very tasty, and very easy to prepare. The 2 ingredients sesame seeds and ragi flour, used in this laddu are rich in fibre and nutrients.
Ingredients:
Ragi flour – 120gms,
Jaggery – 150 gms, ( or a little more).,
White til / sesame seeds – 150 gms,
Cardamom powder – 1/4 tsp,
Desi ghee – 2 tablespoons,
Cashew nut pieces, almond slivers, and raisins – 2 tsp each, ( optional),
Method:
1).Dry fry til under low flame till it turns light golden in colour with nice aroma. Remove and keep it aside.
2).Heat ghee in the same pan, fry ragi flour under low flame till it slightly changes in colour with nice aroma. keep it aside.
3).Put jaggery chunks ( or powder) in blender, add fried til and grind it into course powder.Mix the ground mixture once with spoon. Add ragi flour ,elachi powder and grind them into fine course powder. ( by this time the mixture becomes a little lumpy due to jaggery and sesame seeds).
4).Remove the ragi til mixture into a plate. Smear little ghee on the palms and make small lemon sized laddus. ( if using nuts, fry them in a little ghee and add to the ground mixture).
5).This laddu is a sure hit with kids. Don't forget to add nuts for them.
Tip:
You can use black til in place of white til. It is equally healthy and yummy.