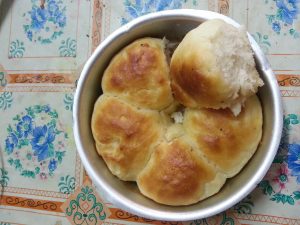 Ingredients:
All purpose flour / maida – 150 Gms,
Salt,
Butter- salted or unsalted – 1 Tablesp, ( avoid adding salt if salted ),
Sugar – 1 Tsp,
dry yeast – 1 Tsp,
Warm milk – 50 ml,
Oil – 2 Tablesp,
Butter milk -'50 ml or little more,
Method:
1). Take warm milk, sugar, yeast in a mixing bowl. Mix well and wait for 5 minutes . Seive the flour , salt into yeast mixture.
2).Add butter and start mixing the flour to prepare a sticky dough using butter milk. Knead it for 2 minutes using few drops of oil.
3).Make a round ball with out any cracks and cover with a damp cloth for 1 to 1 and 1/2 hrs.
4).Mean while preheat the O.T.G.at 180 degree C for 6 minutes.
5).Check the raised dough and knead for a min. Make 5 balls of the same size and arrange them in a greased baking tray.
6).Give milk wash and bake the buns for 12 min. If necessary for 2 more minutes.
7).Remove from oven, smear butter generously and cover them with a damp cloth for few minutes.
Tip:
Alternately you can bake it in a pre heated thick kadai or pressure cooker for 15 minutes under medium flame. If necessary 2 more minutes.