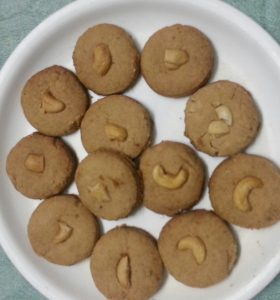 This cookie is a healthy combination of whole wheat flour and peanut powder.I prepared it in kadai.
Ingredients:
Whole wheat flour – 125 Gms,
Peanut powder – 3 Tablesp, ( peanuts dry fried ,skin removed, and finely powdered ),
Fried Channa dal flour – 1 Tablesp, ( optional ),
Powdered sugar – 3 Tablesp,
Elachi powder – 1/2 Tsp,
Oil – any odourless cooking oil – 3 Tablesp,
Desi ghee – 1 Tablesp ( melted ),
Pinch of salt,
Baking soda or baking powder – 2 Pinches,
Method:
1).Mix all the flours , baking soda , Salt along with elachi powder in a bowl and keep aside.
1).Take oil and melted ghee in a mixing bowl. Add powdered sugar and blend thoroughly with a fork or whisker till smooth and creamy.
2).Add flours to this cream and with clean hand mix to prepare a smooth dough . Keep it covered for 10 minutes.
3).Meanwhile preheat a thick bottomed kadai with a small wire stand in it.
4).Make 3 to 4 balls out of the dough . Prepare a thick round with each ball and cut into rounds or differant shapes.Press some nuts on them.
5).place them on a greased, round or square tray with a little distance in between them and bake for 12 to 15 minutes.
6).Check after 10 minutes and continue if necessary. In oven bake for 10 to 12 minutes at 180 degree C.