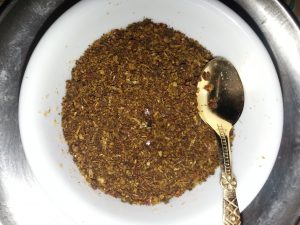 This healthy and tasty moringa / drum stick leaves / munagaku ( Telugu) powder is very easy to prepare. As it is a well known fact that morninga leaves are very nutritious and contain lots of vitamins, antioxidants and minerals. it controls blood sugar and cholesterol levels. The leaves are rich in iron also. Many tasty recipes can be prepared with drum sticks, leaves and even with drum stick flowers.
Ingredients:
Drum stick leaves – 2 cups,( about 250 gms, picked, washed and dried under fan / shade ).
Salt,
Channa dal – 3 Tablespoons,
Urad dal with out skin – 1 Tablespoons,
Dry fried grounded nuts – 2 Tablespoons,
Jeera – 1 Tsp,
Peeled garlic – 8to10 cloves,
Red chilli – 12,
Dhania seeds – 1 Tablespoons,
Oil – 2 Tablesp, or more,
Tamarind – 2″ piece ( optional ),
Method:
1).Heat a tablesp of oil, fry the dals,jeera, dhania seeds till the daľs turn nice golden, add garlic, chillies, fry for half a minute.Remove them.
2).in the same pan add a tablespoon of oil, fry the drum stick leaves till they become dry and crispy.
3).Combine the fried Dal mix, ground nuts and moringa leaves along with salt .Grind them into a bit course powder. Include tamarind if you are using.
4).Serve this healthy spicy powder with break fast items like idli, dosa, kichidi etc. You can serve this powder with hot plain rice along with little ghee.
Tip:
a). For variation you can add fried white til in place of ground nuts / fried flax seeds.
b). Best for diabetics.