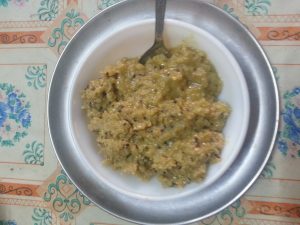 This mouth watering pickle is Prepared with grated amla and green chillies.
Ingredients:
Amla / gooseberry – 500 Gms, ( weight includes seeds).
Salt – 4 Tablespoons,
Oil – 200 ml, ( preferably til oil or ground nut oil ).
Haldi – 1Tsp,
Green chilli paste – 3 Tablesp, ( about 125gms of chilli).
Methi powder – 1/2 Tsp, methi dry fried and powdered,
Mustard seeds powder – 1 Tsp, dry fried and powdered,
Peeled garlic – 6 to 8,
Hing – 1/8 Tsp,
Mustard seeds – 1/2 Tsp,
Curry leaves – few,
Red chilli – 1or 2 ( optional).
Method:
1).Wash and pat dry the amla .Grate them ( like kaddu for halwa ) and keep aside.
2).Fry green chilli in few drops of oil .Cool and make a course paste of it. Keep it aside.
3).Heat oil, add hing, mustard seeds, curry leaves, red chilli, and peeled garlic. Fry the tadka for a min.
4).Add chilli paste and fry for 2 minutes. Add the grated amla, haldi and salt. Fry it under low flame till the oil floats at the edges.
5).Add mustard powder, methi powder and mix well. Let the pickle is on low flame for a minute. Remove it from flame and check salt etc. If necessary add accordingly.
6).Keeps fresh for 6 months if kept in fridge.