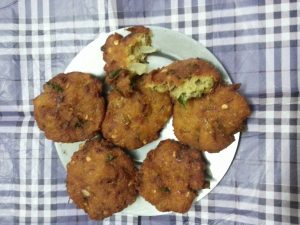 As every body knows, in india specially in South India toor dal is the popular dal used for preparing Vareity of dal preparations in combination with greens and vegetables. I have already used toor dal for preparing dosa. You can check it in my break fast items. Here I am using this dal to prepare tasty, crispy vada as snack item.
Ingredients:
Toor dal – 250 Gms, ( washed and soaked for 4 hrs ),
Salt,
Raw rice – 1 Tablesp, ( washed and soaked along with dal ),
Onion – 2, medium, cut ino small pieces,
Green chilli – 4, chopped fine,
Ginger – 1/4 " piece ,grated fine,
Cloves – 2,
Cinnamon – 1/2″ bit, ( pound with cloves in course powder ),
Peeled garlic – 2, crushed,
Curry leaves – few,
Chopped coriander – 2 Tablesp,
Sompu – A pinch ( optional ),
Oil to deep fry,
Method:
1).Drain the dal ( with rice ) and grind it into a course paste along with salt.
2).Add onion, chilli, ginger, garlic, curry leaves, coriander leaves, cloves cinnamon powder and sompu if using, run mixie using pulse twice.
3).Remove the dal paste in to a mixing bowl. Add a tablesp of hot oil .Mix well.
4).Check salt and make round thin vada and fry in oil under low medium heat ,till crisp and lightly browned. Remove them on to a paper napkin to absorb excess oil if any.
5).Enjoy this snack with evening tea/ break fast item.