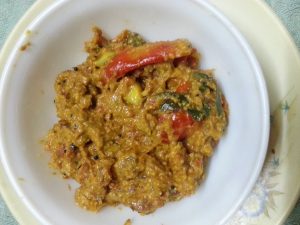 Ingredients:
Ripe tomato – 3, medium size, chopped fine,
Ripe red juicy chilli – 4, ( Pandu mirapa in Telugu ),
Onion – 1, sliced fine,
Jeera – 1/4 TSP, b
Peanuts, dry fried and skin removed – 50 Gtms,
Salt,
Peeled and crushed garlic cloves – 6,
Tamarind paste – 1 TSP,
Oil – 2 Tablesp,
Mustard seeds – 1/4Tsp,
Curry leaves – few,
Chopped coriander leaves – 1 Tablesp,
Method:
1).Heat a Tablesp of oil, fry chilli (prick chilli with a knife to avoid bursting ),garlic and tomato . Fry till tomato becomes soft.Keep it aside.
2).Grind peanuts into a course powder .Remove and keep it aside.
3).Grind the fried tomato mix ,tamarind paste, salt into a fine paste.Add the ground nut powder and onion slices.Run the mixie for few seconds and remove.
4).Remove the chutney into a bowl.
5).Heat remaining oil,fry the Mustard seeds,jeera and curry leaves.Fry till the Mustard splutters and Pour the tadka over chutney.
6).Add coriander leaves to the chutney and mix well.
7).You can enjoy this delicious chutney with dosa/ idli/ chapathi/ even with hot plain rice.
Tip:
If Red chilli is not available you can use dry red chilli .