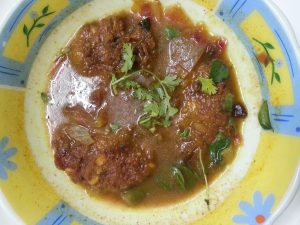 This recipe pulusu is from Andhra.This tangy ( pulusu ) vada recipe is usually prepared with left over channa dal vada.Here Iam using microwave oven to prepare it quickly within 8 minutes.
Ingredients:
Channa dal vada – 6,
Onion – 1, medium size,cut into very small pieces,
Green chilli- 1,cut vertically into two,
Red chili powder – 1/2 Tsp,
Dhania powder – 1 Tsp,
Haldi – A Pinch,
Thick tamarind paste – 1 Tablesp mixed in 25 ml water,( soak vada in this solution for 15 min ),
Salt,
Oil – 1 Tsp,
Curry leaves – 6,
Rice flour – 1 Tablesp,
Chopped coriander leaves ( optional ).
Jaggery powder – 1, Tablesp.
Method:
1).Take a microwave safe bowl,add oil, onion, chilli, chilli powder, haldi, dhania powder and very little salt.Keep it in oven and cook under micro high for 2 minutes.
2).Mix well and add vada along with tamarind water.Again micro high for 3 minutes.Remove from oven and stir gently once.
3).Add rice flour mixed in 2 tablesps of water and gently move the vada so that the tamarind water and rice flour slurry is well blended.
4).Put the bowl again in oven and microwave high for another 2 minutes.Check ,add jaggery powder and continue cooking for another minute.
5).Remove the bowl from oven and garnish with coriander leaves.
Tip:
A).You can avoid even that one spoon of oil.B).In place of rice flour you can use 2 tablespoons of cooked toor dal which really enhances the taste of recipe. C).My recipe sweet and sour vada pulusu is already entered my vegetarian recipes list.