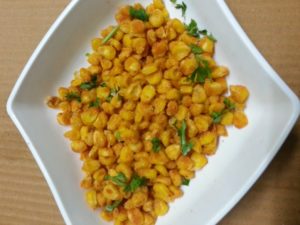 This dish cruchy corn can be prepared in a jiffy in air fryer with minimum amount of oil.
Ingredients:
Sweet corn kernels – 200 Gms,
Salt,
Corn flour – 3 Tablesp,
Rice flour – 1 Tablesp,
Oil – 2 TSP + for greasing the basket of air fryer,
Very finely chopped coriander – 1 Tablesp for garnishing.
Red chilli powder – 1/2 TSP,
Method:
1).Put corn in boiling water for 4 to 5 minutes.Drain water completely by putting in collander.Let it cool a little.
2).Add all ingredients to corn and rub corn gently with the ingredients so that each and every grain is coated with the masala.
3).Meanwhile preheat the air fryer for 3 minutes at 200 degree C.
4).Spread half the quantity on the greased wire basket and air fry for 12 min at 180 degree C.Shake the basket after every 4 min.Check for crispy ness and if necessary continue frying for 2 more min.
5).Repeat the same procedure with the remaining corn.
6).Garnish with chopped coriander and enjoy with evening tea or coffee.
Tip:
For the first 4 minutes I placed the corn on greased butter paper, Later i removed the paper and placed them on wire rack ( just to avoid messing of wire rack ).