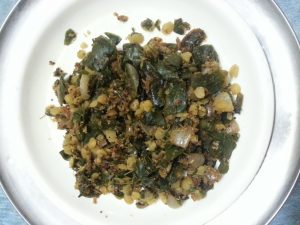 This healthy and tasty dry curry ( Thalimpu in Telugu ) is prepared with tender drum stick leaves along with toor dal. We can use these leaves for preparing dals, snacks like Pakoda etc, Everybody is femiliar with drum sticks with which we can prepare vareity of dishes like curries, sambars, masala gravies ete. Even the flowers of drum sticks can be used to prepare dry curry, snacks etc. All above are iron rich and full of health benifits.
Ingredients:
Tender drum stick leaves – 200 Gms, ( stems removed and only leaves are collected ),
Onion – medium 1,cut into small pieces,
Toor dal – 2 Tablesp, ( soaked in water for 20 minutes before putting in cooker),
Peeled and crushed garlic – 6 cloves,
Green chillies – 6 to 8 or 4 chillies + 1/2 Tsp chilli powder,
Dhania powder – 1 Tablesp,
Jeera – 1/4 Tsp,
Salt,
Haldi – 1/8 Tsp,
Mustard seeds – 1/4 Tsp,
Tomato – 1, medium, sliced fine,
Peanut powder – 1 Tablesp, ( peanuts dry fried and coursely powdered ,
Oil – 2 Tablesp,
Curry leaves – A few,
Red chilli – 1,
Method:
1).wash the leaves in collander .Drain the water and keep the leaves in a pressure cooker ( preferably 3 litres capacity ). Spread the drained soaked dal over the leaves. Sprinkle a tablesp of salted water and close the cooker.
2).Pressure cook the leaves till 2 whistles. When the steam escapes remove the lid and keep the cooker on flame if there is still any moisture. Dal should be tender but not pulpy and mashed.
3).Heat oil in a kadai, add mustard seeds, jeera, red chilli, crushed garlic, curry leaves, fry for few seconds. Add onion, green chillies and fry till onion becomes soft. Add tomato fry till pulpy.
4).Add red chilli powder, haldi, dhania powder and mix well .Add cooked leaves along with dal. Stir well and fry for 2 minutes. Do not put lid.
5).Sprinkle peanut powder and stir once.
6).Remove and serve as side dish for Chapathi/ poori/ any roti/ with plain rice with a spoonful of desi ghee.
Tip:
A).You can easily separate the leaves by the following procedure. Put the stalks in a cloth bag over night. Shake the bag in the morning ( without opening it) ,you can have the leaves completely separated from the stalks. For washing you can put them in collander with a bit big holes so that the small stalks will easily pass through the holes leaving only leaves.
B).you can directly use the washed leaves after preparing the tadka. But there may be little raw smell of leaves some people may not relish it.