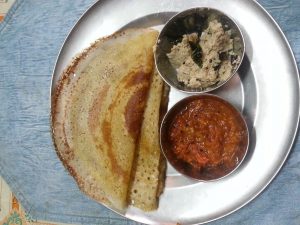 This crispy dosa is prepared with sabudana and some spices with out using urad Dal.
Ingredients:
Sabudana – 1 cup, ( heaped with measuring cup), ( preferably medium size sago, used for sun dried crispies),
All purpose flour – 1/2 cup, ( approximately 60 Gms,
Green chilli – 3,
Ginger – 1/4″ piece,
Fried channa dal – 2 Tablesp,
Coconut gratings – 2 Tablesp,
Curry leaves – 5 To 6,( optional),
Salt,
Oil to prepare dosa,
Method:
1).wash sago and soak it in just sufficient water for 3 to 4 hrs. Keep it aside,.
2).Grind sago with little water and all ingredients ( except oil and flour ) into a fine paste.
3).Mix flour to this paste and gradually add water to prepare batter of dosa consistency.
4).No need to ferment the batter. Keep it for 1/2 hr and start preparing dosa.
5).Heat a non stick or thick iron pan and smear a drop of oil and wipe it clean. Pour a laddle full of batter and spread it into a thin round dosa. Drizzle little oil over the edges and cook it on both sides till crispy and golden.
6).Serve with peanut chutney and Kara chutney.