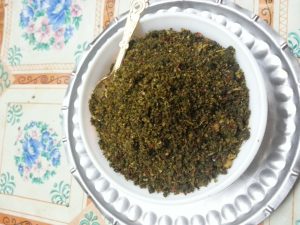 This flavourful,fibre rich, spicy powder with full of medical benefits ,is prepared with drumstick leaves. The powder is a great accompaniment with hot plain rice along with a spoonful of desi ghee. It can also be served with break fast items like idli/ dosa/ pongal/ upma etc. Can keep fresh for few months to a year if preserved in fridgedaire.
Ingredients:
Drum stick leaves – 300 Gms,
Channa dal – 50 Gms,
Urad dal – 1 Tablesp,
Jeera – 1 Tablesp,
Dhania seeds – 1 Tablesp,
Oil – 2 Tablesp,
Salt,
Peeled garlic cloves – 8 to 10,
Red chilli – 15 to 18,
Curry leaves – a handful,
White til or peanuts – 1 Tablesp,
Method:
1).Pick wash and drain the leaves in collander. Spread them on a clean cloth and keep it under fan to dry.
2).Meanwhile fry the ingredients one by one separately, using little oil and allow them to cool.
3).Rub the leaves between layers of cloth and dry fry them separately Iill crisp. Try to take small quanties and fry till crisp.
4).Grind all the ingredients to a course powder. Check salt and add if necessary.
5).you can avoid oil and dry fry the ingredients. Preserve the powder in a clean bottle.
Tip:
You can include 2 tablesp of flax seeds in this powder.