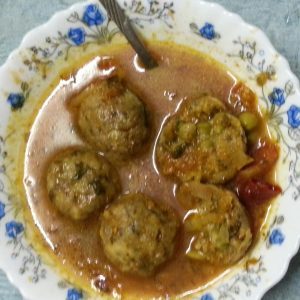 This koftha is prepared with raw plantain. They are stuffed with green pea filling and dunked in masala gravy at the time of serving.
Ingredients:
For koftha,
Plantain – 2, washed, boiled , peeled and mashed,
Salt,
Onion – 1, medium and cut ino small pieces,
Red chilli powder – 1 /2 Tsp,
Pepper powder – 2 pinches,
Ginger. – 1/4″ piece chopped,
Cornflour – 2 Tsp,
Boiled green peas – 30 Gms,
Cummin powder – 1/4 Tsp,
Chopped coriander – 2 Tablesp,
For gravy –
Ginger garlic paste – 1/2 Tsp,
Onion – 1, medium, ground to a fine paste,
Red chilli powder – 1/2 Tsp,
Haldi – 1/8 Tsp,
Tomato puree – 1 Tablesp,
Garam masala – 1/2 Tsp,
Salt,
Cloves – 2,. Cardamom – 2,. Cinnamon – 1/4″ pieces – 2, bay leaf – 1,
Oil – to prepare and shallow fry koftha and 2 Tablesp for gravy ,
Method:
1).Heat a tablesp of oil, add onion pieces and ginger , fry till onion becomes soft.Add other ingredients chilli powder, pepper powder and salt. Stir and cook for a minute .Add plantain mash and mix well. Keep it aside.
2).For filling: Mash the boiled peas and mix cummin powder and little chopped coriander leaves along with a pinch of salt. Keep it aside.
3).Prepare round balls of p!antain mixture and put a little filling in the centre of the ball . Roll the kofthas in cornflour till uniformly coated. Shallow fry all the balls till light golden in colour.Keep them aside.
4).For gravy: Heat oil add cloves, cardamom, cinnamon, and bay leaf.Stir once and add onion and ginger garlic paste. Fry till raw smell disappears. Add tomato puree and chilli powder, haldi and fry for a minute.
5).Now add 200 ml of water along with garam masala and let it cook under low flame till gravy becomes a little thick.
6).Drop the kofthas gently into the gravy. Sprinkle chopped coriander leaves and serve as side dish.
Tip:
A).I shallow fried. the koftha instead of deep frying. You can use Air fryer also.If you want to deep fry them mix one or two tablesps of corn flour while preparing plantain mash as binding.