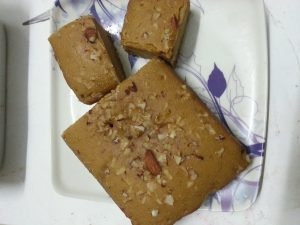 This is an egg less cake using beet root – one of the excellent vegetables to improve blood and also overall health.
Ingredients:
All purpose flour or maida – 16t tv tv0 Gms,
Powdered sugar – 3/4 Cup,( measuring cup ).
Beet root paste – 4 Tablesp, ( Beet root washed, peeled ,boiled and grind into fine paste ),
Oil – 1/3 Cup,( any odourless oil ,I used rice bran oil ),
Hung curd / fresh curd – 1/3 Cup,
Milk 1/3 Cup ( or more for using to prepare batter ),
Baking powder – 1 and 1/4 Tsp,
Baking soda – 1/2 Tsp,
Vinegar – 1 Tsp,
Vanilla essence / cardamom powder – 1/2 Tsp,
Nuts like cashew bits / almond slivers – 1 Tablesp each,
Maroon or red Food colour – 3 or 4 drops ( optional ),
Method:
1).Grease a baking tray along with baking paper and keep it ready. Pre heat a thick bottomed kadai with a stand to keep cake tray.
2)Blend curd, powdered sugar, oil in a mixing bowl till smooth and creamy.
3).Mix beet root paste with milk to a smooth batter with out lumps.
4).Mix this paste solution to curd mixture. Mix well .
5).Seive flour, baking powder, baking soda into the above batter.
6).Mix all the ingredients very well by cut and fold method.
7).lastly add venilla essence and vinegar.Mix well .
8).Add some nuts ( dusted with little flour )to the batter.
9).Pour the cake batter into the greased baking tray . Sprinkle the remaining nuts over the batter.
10).Bake the cake in kadai for 20 to 25 minutes under low medium heat. Check with a tooth pick and if necessary continue for another 3 to 5 min. If you want to bake it in Oven bake it for 25 to 30 min.at 180 degree C.
11).Cool and cut into pieces and serve.
Tip:
You can try this cake with whole wheat flour.