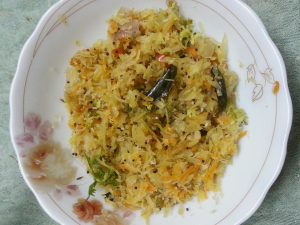 Raw Papaya has got lot of medicinal and nutritional benefits.we can preapare a vareity of recipes with it.Here iam giving a dry curry with raw papaya which is very tasty and simple to prepare.
Ingredients:
Raw Papaya – about 250 Gms gratings,
Onion – 1, medium, sliced fine,
Green chilli – 3, chopped fine,
Peeled and crushed garlic cloves – 6,
Jeera – 1/2 Tsp,
Fresh coconut gratings – 2 Tablesp,
Mustard seeds – 1/4 Tsp,
Skin less urad dal – 1/2 Tsp,
Curry leaves – 8 to 10,
Red chilli – 1,broken into pieces,
Carrot – 1, small, grated,
Ginger – 1/2″ piece ,chopped fine,
Method:
1).Wash, peel and grate papaya fine. Squeeze out little moiture from it and keep it aside.
2).Heat 2 Tablesp. Of oil,add mustad seeds, jeera, red chilli, urad dal, garlic and curry leaves.Fry till mustard crackles and dal changes colour.
3).Add onion, chilli pieces and fry til onion becomes soft and translucent.
4).Add papaya and carrot gratings.Sprinkle little water and salt.Mix well and cook under low flame with lid on the kadai.Put some water on the lid to avoid burning at the bottom of kadai.
5).Check now and then .Sprinkle water if necessary.Continue cooking under low flame till papaya becomes soft.
6).Add coconut and coriander.Mix well and remove from fire.
7).This dry curry is very delicious .Serve with any rice preparation/ chapathi/ poori.
Tip:
A).You can use this curry as stuffing for parathas.
B).Sprinkle little milk over gratings during cooking for enhancing it's taste.