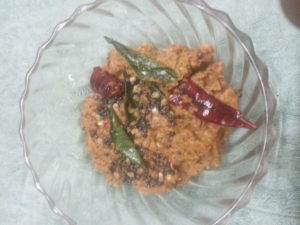 This unusual chutney with central marrow and seeds of tender louki tastes great with hot plain rice / dosa / idli.
Ingredients:
Tender louki marrow along with seeds – 100 Gms, ( usually this is discarded while using gourd ),
Channa Dal – 1 Tablesp, + 1/4 Tsp,(for tempering ),
Ürad dal – 1/2 Tablesp, + 2 pinches ,( for tempering),
Ground nuts – 1 Tablesp,
Mustard seeds – 1/4 Tsp,
Peeled garlic cloves – 6,
Jeera – 1/4 Tsp,
Curry leaves – few,
Red chilli – 3 + 1
Salt,
Tamarind paste – 1/2 Tsp,
Oil- 4 Tsp,
Chopped coriander – 2 Tsp,
Method:
1).Chop marrow along with seeds , into small pieces and keep it aside,
2).Dry fry Channa Dal, urad Dal ,3 red chilli along with jeera and keep them aside,
3).Dry fry ground nuts till crisp and keep it aside,
4).Fry marrow pieces in 2 tsp of oil. Fry them till soft and remove,.
5).Grind the dals ,ground nuts ( with jeera) peeled garlic, chilli, into a course powder.
6).Add fried marrow, Salt , tamarind and grind it into smooth paste. Remove.
7).Heat remaining oil, Fry mustard seeds ,dals, chilli and curry leaves .Pour over the prepared chutney. Mix chopped coriander and serve as side dish. .