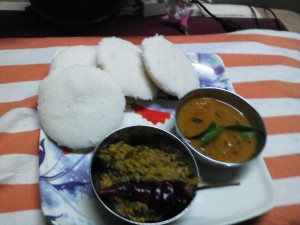 Ingredients:
Fine Idli Rawa-3cups,(rawa from parboiled rice,freely available
in all most all provision stores in andhra).
Urad dal with out skin-1cup.(wash and soak it for 2 hrs).
Methi seeds-1/2tsp.(soak with dal).
salt.
Baking soda-1/4tsp.
Method:
1).Take rawa in a bowl,pour 5to6cups of water,stir it once with
hand and drain off water by slightly tilting the bowl.
2),Again pour 4to5cups of water and allow it to soak for an hour.
3).Meanwhile grind urad dal along with methi seeds into a very fine
paste.Use 1/2cup water while grinding so that the paste should be
firm and fine.keep it aside.
4).Remove rawa into a big bowl by taking handfuls and squeezing
out water from it.
5).Add ground dal to rawa and mix throughly along with required amount
of salt.
6).Allow it to ferment over night.
7).Next day morning add 1/4 tsp.of baking soda(if you are using whole
batter).pour few drops of water on soda and mix well with a ladle.
Add water if necessary to bring it to idli batter consistancy.
8)Smear few drops of oil on the idli plates and prepare idlis by
steaming in a idli cooker for 8 to 10min.
9).preparation of this idli batter takes less time and can easily be prepared .
as there is no need to grind rice.
(especially parboiled rice needs to be ground preferably
in a wet grinder).
10).serve these lovely and delicious idlis with coconut chutney/ground
nut chutney/sambar.
Tip:
Use chilled or ice cold water while grinding dal (to avoid dal batter becoming warm).
you can refer my recipe -Basic Batter for Idli in my blog – another version of preparing idli.