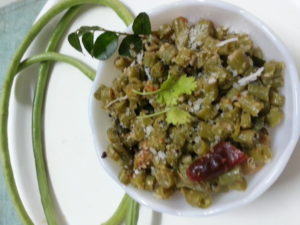 There are different varieties of cow peas or beans / black eyed beans available in india.But in Andhra area we get tender yard long green beans ( pods) and black eyed beans .The yard long beans are used for preparing curries like thalimpu etc, the other varierty black eyed beans (called Alasandalu/ bobbarlu in Telugu/ karamani in Tamil ) which are protein rich are used in different varierty of recipies like masala gravies, sundal, vada etc.This is one of the tasty and healthy beans available to us .Here I am giving recipe using long green beans.
Ingredients:
Long bean pods – 250 Gms,washed and cut into 1inch bits (remove fibrous portion if any, while cutting ),
Onion – 1,medium,cut into small pieces,
Red chilli – 2, each broken into two,
Mustard seeds – 1/8 Tsp,
Haldi – A pinch,
Red chilli powder – 3/4 Tsp,( use vellulli karam if available )
Jeera – 1/4 Tsp,
Urad dal with out skin – 1/2 Tsp,
Peeled garlic – 6,crushed,
Curry leaves – A sprig
Oil – 2 Tablesp,
Fresh grated coconut/ dessicated coconut powder – 2 Tablesp,
Method:
1).Boil bean pieces in salted water till tender.Drain and keep aside.
2).Heat oil, add mustard seeds, jeera, red chilli, urad dal, garlic and curry leaves . Fry till mustard splutters and dal becomes light brown.
3).Add onion ,fry till it becomes soft,Add boiled beans and mix well.Keep the pan covered for 2 min.Remove lid and sprinkle coconut and chopped coriander.Mix well and keep for 1/2 min on fire and remove.
4).Best side dish for rice and sambar.
5).You can prepare this dish in pressure cooker ( preferably 3 litres ) ,Prepare tadka and add onions ,fry for a min and add beans (need not boil) .Add salt, chilli powder,haldi,3 to 4 Tablesp of water.Mix well and cook for 3 whistles.
Tip:
My image of recipe includes long green beans.